Online safety
Being online is an integral part of children and young people's lives. Social media, online games, websites and apps can be accessed through mobile phones, computers, laptops and tablets – all of which form a part of children and young people's online world.
The internet and online technology provides new opportunities for young people's learning and growth, but it can also expose them to new types of risks.
Be SMART online !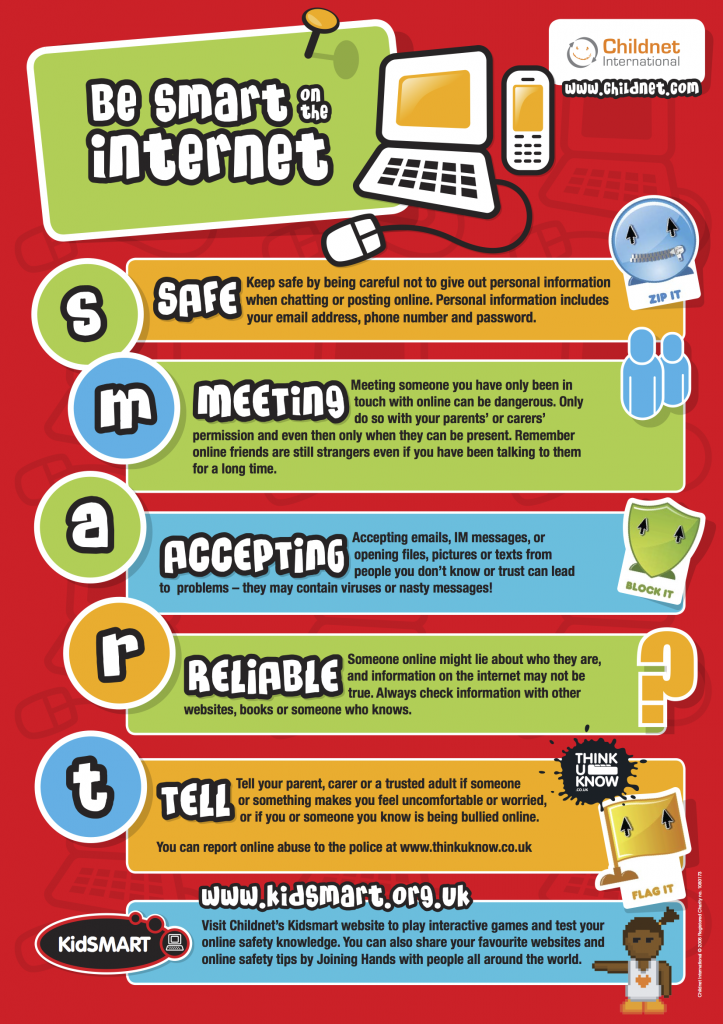 This page uses materials from the NSPCC Website: https://www.nspcc.org.uk/keeping-children-safe/online-safety/
What are Internet connected devices?
Many families have internet connected devices for their child or home. Internet connected devices are devices or toys that are connected to the internet via WiFi, Bluetooth or a physical connection like a USB cable. They can also be connected to each other.

Internet connected devices can send and receive data, respond to voice commands and be controlled remotely using a smartphone app. They can also be called 'the internet of things'.
Examples of internet connected devices include:
smart speakers, such as Google Home and Amazon Echo
wearables, such as Fitbit and Apple Watch
smart meters measuring household energy consumption
toys with voice or image recognition, such as Hello Barbie™ and Furby Connect
robots, drones and other mechanical toys, controlled via an app, such as Dash and Dot.
What are the risks of internet connected devices?
Many parents don't realise that internet connected devices have the same risks as devices like smartphones and tablets. These can be more likely to happen if the devices aren't used or set up properly.
Some of the risks of using internet connected devices are:
other people might be able to access your device and content without you knowing. You may not be able to see that someone's connected to your device, but sometimes developers or hackers can see your content.
baby monitors, children's tablets and even remote-control helicopters or drone toys, can be hacked and used by people outside of your home.
internet connected devices can collect personal data, including audio and visual data.
Default settings might include things like GPS location tracking, public WiFi and camera or chat access. It's important to turn these off so your child can't be identified. Always check device privacy settings and make sure they're switched on.
You need to download an app to use most internet-connected toys or devices. Check the privacy settings and permissions of any apps or products you download.
Your home WiFi network and TV settings should be password protected. Think about setting up accounts for your children so they're only seeing age-appropriate content. For example, on TV streaming services like Netflix.
Parental controls help you to block or filter upsetting or inappropriate content, and control purchases within apps. You can install parental control software on your child's and family's phones or tablets, games consoles, laptops and your home internet.
Parental controls can help you to:
plan what time of day your child can go online and how long for
create content filters to block apps that may have inappropriate content
manage the content different family members can see.

Lots of mobiles, tablets and computers come with settings that help you to manage what your child can and can't see or do online. Check things like location settings and what information your child's sharing.

get more advice about setting up controls on different devices from the UK Safer Internet Centre and mobile providers.Home internet providers can offer parental controls for your child. You can use a filter from your internet provider to control the content that you and your family see.
set up any device connected to your home broadband. How you do this depends on your provider and you'll need to access your home router. You can visit Internet Matters website for step-by-step guides on how to do this.
make sure your child uses the internet through WiFi instead of through 3G, 4G or 5G. Otherwise parental controls won't work.

Most games consoles have internet access, which means your child can go online and chat with other players or make in-game purchases. The controls on your games console help you to manage what your child can and can't do.

On some devices you can:

set up different profiles for each family member
deactivate the internet
turn off chat functions to stop your child from talking to people they don't know.

To help prevent your child seeing upsetting or inappropriate content online, you can:

explore with your child what they're doing online before they do it, so that you can decide what's age-appropriate together.
set up parental controls on smart TVs and services like Netflix, Sky, BBC iPlayer and YouTube, so your child can only watch age-appropriate shows and TV.

Sometimes, innocent searches can lead to not so innocent results.

If you're worried:

make sure the content your child sees online is appropriate for their age by using parental controls and filters in search engines like Google, Yahoo and Bing.
you visit Internet Matters for more information on how to do this.

The controls you've set up on your child's device and your home broadband won't work if they use 3G or 4G, public WiFi or log onto a friend's connection instead.

Remember:

public WiFi is often available when you're out and about, but it's not always safe.
some public places and businesses offer family-friendly WiFi. When you see the family-friendly WiFi symbol it means there are filters to stop children from seeing inappropriate or upsetting content.
talk with your child and agree what they can and can't do online. If your child's visiting friends or family remember that they might not have the same controls set up.

It can be hard to keep track of all the apps, games or social media networks your child may be using and what they are.

It can help to:

remember some apps let young people send messages to each other or store personal information. Others are for playing games or having fun.
talk with your child about their privacy settings and explore different social networks, apps and games together.
use Net Aware, in partnership with O2, to help you set up parental controls on popular apps and networks.
Lots of people have old phones and devices that they don't use anymore. If it's not been used for months make sure you turn it off, so that it's not collecting any personal data.
What are livestreaming and video apps?
Livestreaming is broadcasting to an audience in 'real' time. The audience can leave comments, or give likes and kudos to the person streaming. Some platforms let several people livestream at the same time.

There are livestreaming apps like Twitch and Yubo, but young people can livestream on other social media platforms, including Facebook and Instagram. Many young people also post pre-recorded videos on video apps like YouTube and Vimeo, or video chat in groups or one-to-one, using apps like WhatsApp. Video conferencing apps such as Zoom and IMO are also becoming increasingly popular during lockdown.

Young people like to livestream and use video apps for lots of reasons. These include:
to learn or show others how to do something – livestreams of people playing video games are particularly popular
to stay in contact with family and friends
to take part in viral trends
to be creative
to relax – many video apps have 'satisfying content', such food being prepared.
What are online games?

Gaming is a great way for young people to relax, socialise with their friends and have fun. Children can play on games consoles, apps or websites, mobiles, tablets, PCs, or through smart speakers and virtual reality headsets. They can also chat to other players using messaging platforms for gamers, or watch livestreams of well-known gamers.

You can find out more about the different types of games children like to play on Net Aware, in partnership with O2.
Why young people play online games
Some of these reasons young people like to play games online include:
socialising with friends. When gaming children can play together on the same team, or play against each other.
games based on location, such as Pokémon Go and Wizards Unite, encourage players to go outside and explore.
watching videos and livestreams of other people playing, or share tips with other players to develop their own gaming skills.
games are designed to be entertaining and can be fun and engaging for young people.
watching their favourite gamers on YouTube or livestreaming on Twitch. They may also want to livestream themselves playing games.
If your child has seen inappropriate content (outside of school strategies)
Sometimes, innocent searches can lead to not so innocent results. And sometimes, children may look for things because they're curious.
It's important to know how to reassure young people and help them know what to do and where to go for support if they see inappropriate content online.
If your child has seen inappropriate content online, you can:
talk with them about what they've seen – let them know what is, and isn't, appropriate for their age.
reassure them they can come to you, another trusted adult or Childline if they're worried about something.
get advice on setting up parental controls.
avoid 'sharenting' or sharing explicit or inappropriate content you've seen online to raise awareness. Sharing content of physical or sexual abuse is illegal and can be upsetting to the child and others who come across it.
report any inappropriate, illegal, explicit, identifying or distressing content to CEOP through their website. You can find about more about reporting content on our sexting page.
block any distressing, inappropriate or upsetting content on social media websites. You can learn how to do this through Net Aware, in partnership with O2.

Starting a conversation about online safety


It can be difficult to know how to start talking to your child about what they're doing online or who they might be speaking to. But talking regularly, like you would about their day at school, will help your child feel relaxed and mean that when they do have any worries, they're more likely to come and speak to you. It can help to:


reassure them that you're interested in their life, offline and online. Recognise that they'll be using the internet to research homework as well talking to their friends.
ask your child to show you what they enjoy doing online or apps they're using so you can understand them.
be positive but also open about anything you're worried about. You could say "I think this site's really good" or "I'm a little worried about things I've seen here."
ask them if they're worried about anything, and let them know they can come to you.
ask them about their friends online and how they know they are who they say they are.
listen for the reasons why your child wants to use apps or site you don't think are suitable, so you can talk about these together.
ask your child what they think's okay for children of different ages so they feel involved in the decision making.