Travel to School
Walking
We encourage our local students to walk to school, to maintain a healthy lifestyle. Our doors open from 8am for breakfast club. This must be pre-booked.
Bike/Scooter
We provide stands for bikes and scooters, but pupils must provide their own locks. Helmets and Lights must be provided by families. Safety is paramount.
Travel to school initiatives
For more information about Central Bedfordshire Council's Liftshare scheme, please click here
https://liftshare.com/uk/community/travelchoicescbc
A free online public transport journey planner along with public bus and train timetable information, can be found here
Details of National cycle routes and a cycle route planner can be found here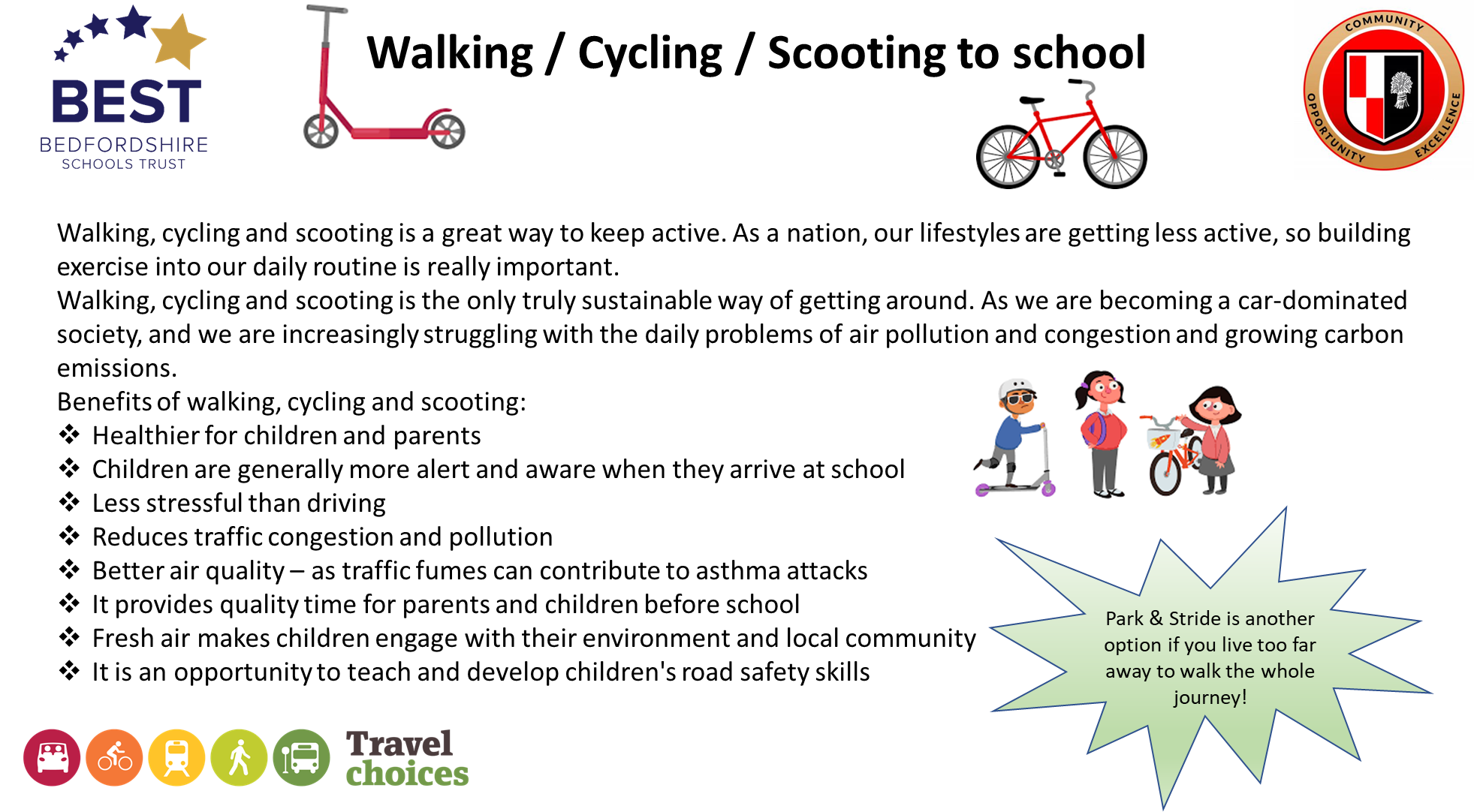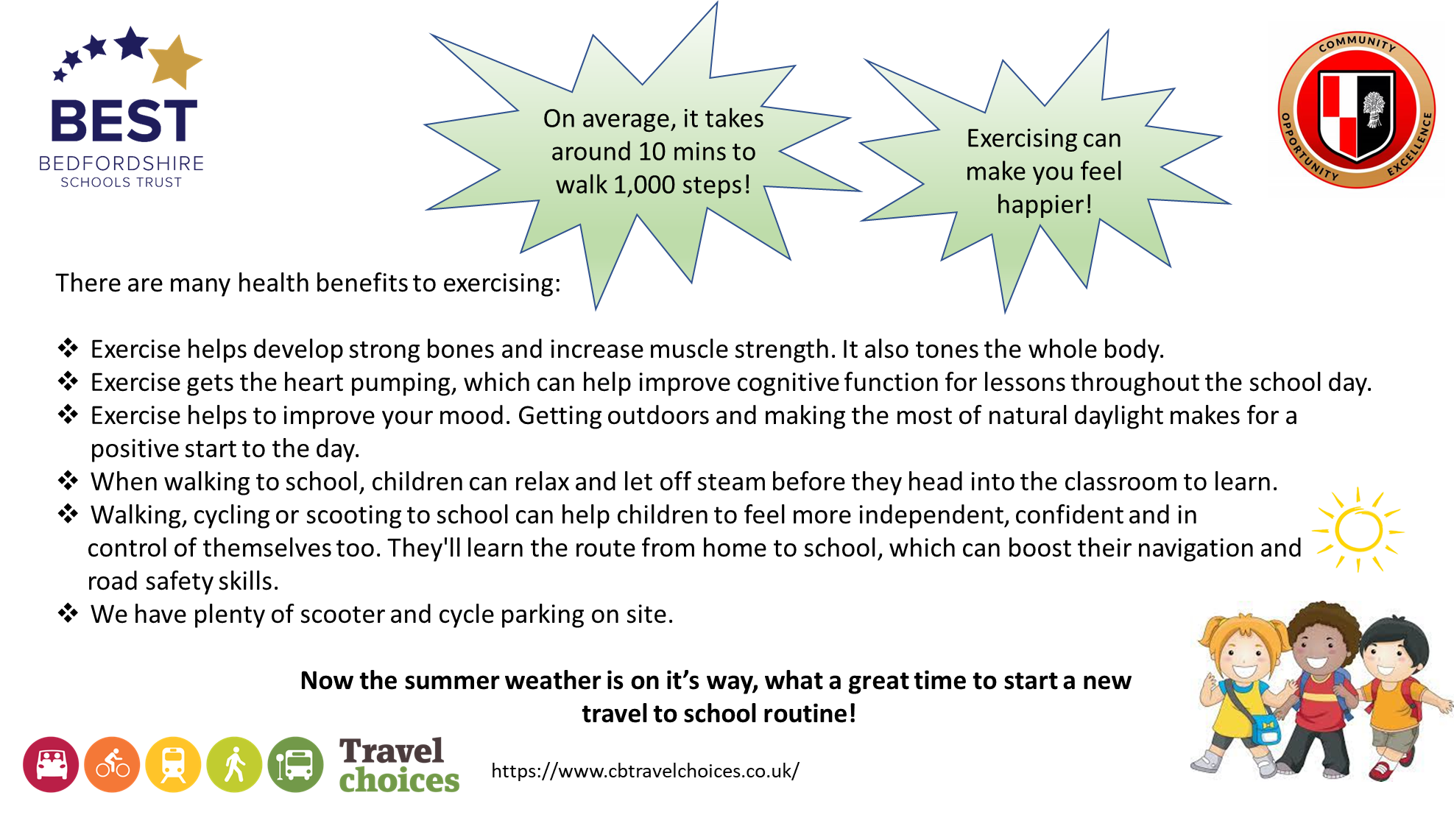 RBA run Bikeability courses every year for Year 5 students and encourage walking or cycling / scooting to school where possible.
Central Bedfordshire Travel Choices website has lots of useful information on:
Health and well-being benefits of walking / cycling
Organised health walks
Walking / Cycling guides
Bus maps
Cycle clubs
The Cycle to Work scheme
The website can be found here
https://www.cbtravelchoices.co.uk/
School Bus
School bus transportation is run by the local authority. As a school, we have no direct influence on bus procedures, lateness and issues with the service provided.
If you have a question or complaint regarding school bus transportation, you will need to contact the CBC Transport Team directly on 0300 300 8339
Alternatively, you should contact the individual coach companies if you have a more specific issue or query. Please note, RBA office staff will not be able to assist with bus-related questions other than student conduct.
If a bus runs late or has a mechanical/technical issue, we will alert families via social media and parent mail once we are made aware. Please have a plan B in place in order to get your child to school if the bus is unable to pick up for any reason.
However, please do not phone the school for additional information. Instead, direct your questions to the company themselves.
Bus Conduct - We will address any conduct concerns regarding our students and liaise with the companies when investigating. As such, we operate a strict code of conduct for this service that outlines how we expect the pupils to behave and what the consequences are should they choose not to. This amounts to a 3 strike system which can be accelerated at any time due to the nature of the incident.
The Home to School Transport policy from CBC has clear guidance on what is and is NOT acceptable when using their bus service.
Pupils entitled to travel to and from school under the current Home to School Transport Policy are provided with a journey at the beginning and at the end of each school day only, from a prearranged specified collection/drop off point. Alternative collection/drop off points will not be authorised.
The safety and comfort of pupils travelling on home to school transport routes is of the utmost importance. The Council is constantly looking at ways to improve quality and safety standards on all routes. Current standards include:
• CCTV on all vehicles of 30 seats or more
• Seatbelts on all vehicles
• Risk assessment of stops, routes and services
• Continuous monitoring of the service
• Behaviour management including consultation with schools
• Written confirmation to schools of any changes in the provision of transport
The CBC Code of Conduct exists to make the journey between home and school safe and comfortable for all those travelling. The Council's priority is to meet all health and safety requirements and to avoid accident or injury wherever possible.
In order to ensure safe travel to school, pupils should always:
• Wait sensibly for the bus, off the road, in a safe area/designated stop
• Be at the stop at least 5 minutes prior to the specified collection time
• Have their bus pass ready to show the driver; failure to do so may mean they will not be able to travel
• Maintain their bus pass in a good condition. Damaged passes will not be accepted by the driver and travel may be refused
• Be polite, courteous and respectful to the driver, passenger assistants and all other passengers
• Remain in their seat whilst the vehicle is moving
• Wear a seatbelt (where provided)
• Put belongings safely out of the way and keep the gangway clear
• Leave the bus clean and tidy – take rubbish away and deposit in a waste bin
• Follow any instructions given by the driver or passenger assistant
• Make an agreement with parent/carer as to what to do if the bus does not arrive or is missed
• If there is an accident pupils should stay on the bus until advised otherwise by the driver/passenger assistant. If it is unsafe to stay on the bus the driver/passenger assistant will inform pupils of the appropriate action. If pupils leave the vehicle without the driver's permission this will be reported to the school and where possible to the parent/carer.
CBC Bus Penalty guidelines
If an incident occurs it will be investigated jointly by the School, Contractor and Central Bedfordshire Council with the use of CCTV footage (if available) and witness statements.
Failure to adhere to the Code of Conduct will result in the issuing of a warning and/or a ban determined by the frequency and/or the level of offence.
Any transport ban implemented will be supported by the School and notice will be provided to the Parents/Carers. It is a parental responsibility to ensure that their child continues to attend school during any ban from home to school transport.
By accepting the transport provision from Central Bedfordshire Council you are agreeing to the Code of Conduct and to advise the School Transport Team of any changes in contact details or circumstances that may affect the provision of transport for your child.

Contact details for the Local Authority:
Telephone: 0300 300 8339
Web: www.centralbedfordshire.gov.uk
Write to: The School Transport Team, Central Bedfordshire Council, Priory House, Monks Walk, Chicksands, Shefford, Bedfordshire, SG17 5TQ
Car
Please note that there are no car parking facilities for parents at the school unless you are attending an appointment.
Please do not park on the Yellow lines outside of school or in the bus lane.
Please ensure your child knows your travel back-up plan should their normal means of getting to school is affected. For example if a pupil normally catches the school bus but due to the weather conditions the bus cannot get to their pick-up point they need to know what to do. For most this will be to return home (after waiting 20 mins after the scheduled collection time) for others this may be returning to a neighbour or contacting parents, depending on what you have arranged.
In terms of the school we will always try to ensure the school is open unless the weather conditions cause a risk to the health and safety of the users of our site or travelling to the site. Information regarding any school closure will be posted initially on the Central Bedfordshire Schools Portal and then via our social media channels.